b-panel Campus Seminar: Educating Young Generation to Support Sustainable Building Practices
Many of us have not had the concern to environment in development. By 'environment', we only thought of waste, litters, and environment contamination. But nowadays concern to environmental issues has expanded into designing and constructing a building.
Building construction with awareness to environment, in practice, is often considered against economical growth, since the cost for sustainable building is not cheap. In fact, sustainble building has a lot of positive impacts, for it contributes in mending microclimate and thus held global warming from getting worse, although usually a bit more expensive initially, in long term, the project will save substantial operational cost from energy savings.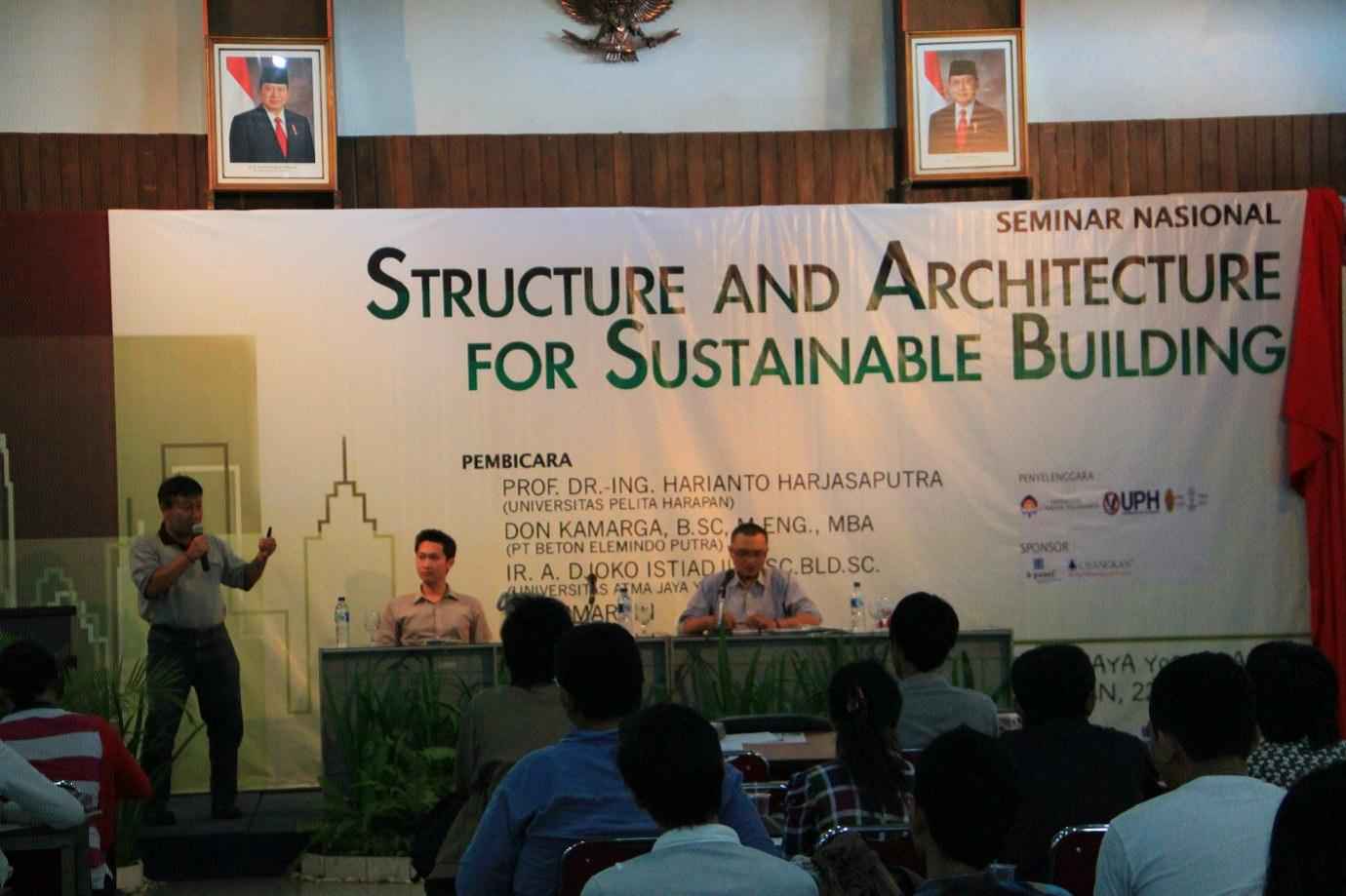 b-panel®, along with Beton Works (a federation of concrete-based building material producer, in which b-panel® is one of them) continue to support a national seminar series with concern to sustainable building that is held in several universities in Indonesia. We are hoping to educate young generation in Indonesia, mainly the university students, about the importance of sustainable building.
The seminars were held in Universitas Bandar Lampung, Universitas Atma Jaya Yogyakarta, Universitas Sumatra Utara, and Universitas Bina Nusantara (Binus) Jakarta. The seminars explain the implementation of b-panel® in sustainable bulding, along with other environmentally-friendly products from Beton Works.
We no longer need to install walls by stacking the pieces of bricks (not to mention that they only function as partition walls); we can now install walls rapidly, with benefits of thermal and acoustic insulation included. In the future, these benefits will give long term profitability; such is the excellence of sustainable building.
Sustainable building is a concept that fulfill today's need without ruining our successor's ability to fulfill their needs. The main concern of eco-friendly building is to make it sustainable, to build and consume not more than necessary.
Sustainable building provides innovative and creative aspects in managing natural resources, in order to maintain its supply for the future. Preparation for future energy is our responsibility. So, sustainable building is a revolutionary idea that must be supported by everyone. This is a continuous movement which aspires to the creation of eco-friendly and energy efficient building, starting from conception, excecution, and selection of eco-friendly building materials. b-panel® adopts Green Building concept which emphasizes on balance between short term gains versus long term risks, with a consideration for the health and prosperity of future generations
Related News: