July 2012 | b-panel at IndoBuildTech Expo Jakarta 2012
Team b-panel would like to thank your patronage at our booth and the Metacarve pavillion at the Indobuildtech Expo, 27th June – 1st July 2012, at the Jakarta Convention Center (JCC). The event is the largest building material tradeshow in the country, and this year's show was the largest ever, with more than 250 exhibitors. It was also PT Beton Elemenindo Putra's most intensive participation in any trade show to date.
Aside from the usual booth we have, team b-panel also setup a massive 18 x 5 m pavilion right next to the registration booth, to capture a large portion of visitors' traffic. This pavilion, called MetaCarve, was designed by architecture students from Pelita Harapan University (UPH), in conjunction with PHL Architects, which co-sponsored this installation.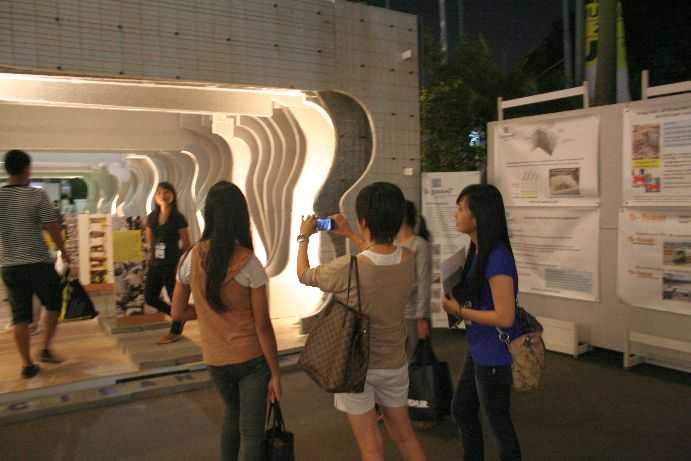 The MetaCarve Pavilion was designed to showcase how a set of 2-dimensional objects, in this case, 71 wave-patterned plates made of b-foam® fire-retardant Expanded Polystyrene (EPS), can combine into an aesthetically pleasing 3-dimensional design. b-foam® EPS is one of the main ingredients to manufacture b-panel®. Indeed, the first and last 3 layers of MetaCarve were made of actual b-panel® of various types (One layer of our 2nd-generation b-panel®, one layer of b-panel Neo® carbon graphite EPS Panel, and one layer of b-Lite®, our newest light-duty economical product line).
Due to its front-and-center location at the show and its distinctively unique design, many times the MetaCarve pavilion drew very large crowds, sometimes the number of our booth staffs could barely cope, but we worked hard to make sure all visitors had plenty of chances to ask questions and gained knowledge about our energy-efficient and quake-resistant building system.
The pavilion and our building material received good media coverage during the event, including the front page of Kompas' (Indonesia's most read newspaper) Economics section that Friday.
Aside as a design exercise, the pavilion was also used to educate visitors about the benefits and virtues of building energy-efficient, quake-resistant dwelling, clearing some misconceptions about EPS foam (bad if used for one-time application, good for long-term application such as insulated building material), and to showcase PT Beton's genuine effort to ensure environmental consideration in all we do, including completely recycling EPS plates of the pavilion after the show is over . Naturally, it also doubled as our second booth for advertising b-panel®, supplanting our main booth inside the expo hall, at times was also crowded with visitors. At dusk, we run projection screen slideshow and video clips of our products and their installation.
We hope that during this 5-days event, our staffs were able to communicate to as many visitors, and to open their mind to b-panel®, a very credible alternative to conventional methods of construction.