February 2012 | An Employee Celebration of the Start of 2012 at PT. Beton Elemenindo Putra
On Friday, 3 February 2012 employees of PT. Beton Elemenindo Putra celebrated the start of 2012 in a very festive party. Besides aiming to welcome the New Year, the event was also held to strengthen the relationship between employees. During the event, company management distributed "Angpao" to employees who have reached qualifying tenure. This has been our tradition almost since the founding of the company. Area at the back of the factory was transformed into a magnificent stage, complete with two big screens made up of EPS blocks which we produce daily.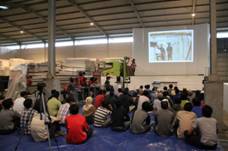 The event was opened by the chairman of the event, followed by the representative of the Board of Shareholders and our directors. The event was followed by the signing of the team inscription, which is made from slab of gray-colored EPS which pledged the commitment of all employees of PT. Beton Elemenindo Putra, "My full diligence, thoroughness, and attention to the advancement of company that we also own".
Next was the entertainment show which comprised of exciting games, starting with make-up games, song guessing game, PPE (Personal Protective Equipment) wearing race, and a dancing competition. The enthusiasm of both the participants and audiences ran high, aided by barrages of valued prizes. Each employee representative from each division did not hesitate to show his skill on these games, so it made an energetically warm atmosphere.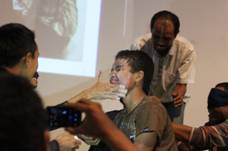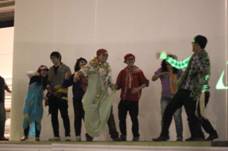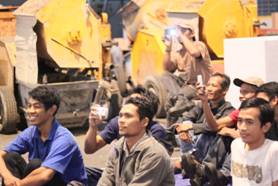 Before the distribution of "Angpao", our director explained the motivation behind this tradition, where employees get a share of company profit like a company owner. With that, all employees committed to further improve the performance for the company's progress, also just like the company owner.
The event closed with dinner and prayers in two faiths. On the sidelines of dinner, door prize drawing was conducted with tempting gifts, such as a TV mobile and meal and shopping vouchers. The entire team of PT. Beton Elemenindo Putra came home that night with the hope that for the years to come, this event will be more vibrant with even greater "Angpao" due to the more profitable and triumphant condition of the company.