May 2012 | Advanced Training for b-panel Partner-Installer – Sanspro
On 21-22 Mei 2012, PT Beton Elemenindo Putra organized training for advanced-stage b-panel® Partner-Installer on Sanspro® structural analysis software. This course was intended for those Partner-Installers wishing for the highest team ability in b-panel® system, where not only they can install b-panel® properly, but also able to optimally analyze and calculate their b-panel® needs, so that the utilization of b-panel® would reduce the sizing of main structures. This due to the unique characteristic of b-panel® – although lightweight, it has very high strength such that it functions as load-bearing member. Beside that, with the in-house ability to analyze b-panel® requirements, material ordering process from PT Beton Elemenindo Putra, b-panel® producer in Indonesia, will be more rapid and streamlined.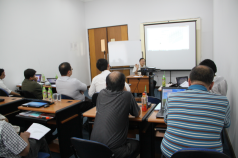 Sanspro® program is a structural analysis software created by Dr. Ir Nathan Madutujuh, a notable structural consultant in Bandung. This software has already been used by various structural professionals since early 1990s, including several customers outside Indonesia. For b-panel®, Dr. Madutujuh created a special version, where all parameters have been preset to this particular material's characteristics, to make data processing easier and speedier.
This event was conducted at International Center for Applied Technology (ICAT) of Nurtanio University Bandung, with the main instructor being Mr. Nathan himself, aided by several Engineering staffs of PT Beton Elemenindo Putra. Participants included Partner-Installer teams from Jakarta, Kalimantan, and Timor Leste. Also attended this event were a few guests from Singapore and Bandung, who were candidates for Partner-Installer in evaluation stage.
In day 1, the course commenced with explanation of basic characteristic of b-panel®, which structurally can be assumed as load-bearing reinforced concrete member, lightweight due to its composite design with EPS layer, in which EPS initially functions as formworks for the reinforced concrete during casting (by means of shotcrete), and after the wall is completed, the EPS layer's function elegantly morphs into thermal and acoustic insulation. The course continued with explanation of b-panel.exe, which is used to locally analyze b-panel® components. At the end of day 1, the class was treated to a group dinner, afterwards the participants spent the night at Hotel Mawar, a boutique hotel at the heart of Bandung art deco historic district. This 4-story building is constructed using b-panel® full-system, where all the walls, floor, and roof deck utilize this material.
The focus of day 2 is on Sanspro® program itself. This program analyzes and calculates b-panel® structure in global term, where the entire structure of the building is analyzed. With this finite element analysis-based program, the Partner-Installers will be able to perform iterations to optimize the structural configuration of a building using b-panel®.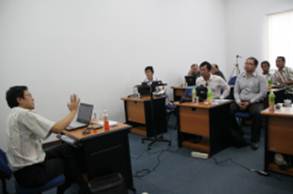 The goal after this Sanspro® for b-panel® training, is for Partner-Installers to be able to more efficiently and self-sufficiently calculate the required b-panel® for upcoming projects. Due to b-panel® inherently high strength-to-weight ratio, it serves as integral load-bearing member of a building, and thus if analyzed thoroughly using the right software, a building that uses b-panel® will become much more structurally efficient. This would reduce the overall mass of the project as well as the cost.
Within a week of the course completion, one of the b-panel® Partner-Installers attended the event, PT. Bangun Nusa Persada, succeeded in completing a calculation be themselves using this software. Naturally it is the commitments of both PT Beton Elemenindo Putra and Dr. Madutujuh to provide technical support and entertain all questions regarding Sanspro® to ensure that the Partner-Installers operates this software properly to achieve the desired benefits.