May 2010 | b-panel Partner-Installer: General Meeting 2010
On May 25 – 26, 2010, PT. Beton Elemenindo Putra invited b-panel┬« partner-installers from all over the country, to attend the third Partner-Installer General Meeting, organized at b-panel┬« factory in Batujajar near Bandung, West Java. This meeting is an annual gathering to nurture the cooperation between PT. Beton Elemenindo Putra with each Partner-Installers, to exchange ideas and upgrade skills, and also to establish networking among the Partner-Installers.
Different from the events in the previous years, this time the General Meeting was conducted over a span of 2 days, instead on a single day. This was due to requests by some Partner-Installers for an addition of a field installation session on an actual b-panel® project site. Thus, for this meeting, an additional session was added on the second day, where at an actual b-panel® project site, b-panel® field installation team demonstrated the installation steps of b-panel® system in details, and systematically.
In this opportunity, PT. Beton Elemenindo Putra invited Mr. Massimo Rossi from Schnell House, Italy. Schnell S.p which is headquartered in San Marino, is PT. Beton Elemenindo PutraÔÇÖs Technology Partner for b-panel┬« EPS (Expanded Polystyrene) composite panel system. Mr. Massimo is an expert in EPS panel design and analysis, but also has deep practical experience in the actual field installation of EPS panel building system.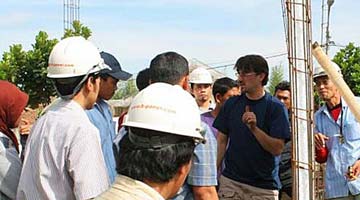 Attending the General Meeting were Partner-Installers from Jakarta, Bali, Bandung, Central Java, and Lampung, as well as staffs from one of PT. Beton Elemenindo PutraÔÇÖs strategic material partner. The event started with introduction of each participants, both the veterans as well as the new joiners, updates from ongoing projects by the partner-installers, and introduction of new products of PT. Beton Elemenindo Putra, followed by a factory tour. In the afternoon, Mr. Massimo Rossi conducted a Best Practice Sharing workshop, to share his experience from installing building system similar to b-panel┬« in various countries.
The following day, the program continued at Gempol Asri, Housing Estate, where b-panel® has been utilized to construct more that 30 units of homes to date. At that session, Mr. Massimo Rossi and Mr. Dadang Surahman, Project team Manager of PT. Beton Elemenindo Putra, performed "on-the-job" training for the Partner-Installers, including panel installation steps, as well as shotcrete and finishing methods. Even after many of the principals returned home, quite a few of field staffs of the Partner-Installers stayed on for the next 2 days to obtain further skill enhancements.
By regularly conducting these events, PT. Beton Elemenindo Putra hopes for an ever-improving synergy between itself and each of the partner installers, as well as to establish the next batch of partner-installers. b-panel® is an innovative building system with many compelling benefits. However as it requires installation teams that are well-trained and well-equipped, the Partner-Installer Program is crucial in ensuring that b-panel® become the building technology of choice, widely accepted by the Indonesian construction market.
Source: b-panel® Marketing Team