April 2012 | Trip to Cirebon
Many things can be done by employees in a company to relax for a moment and let go of the fatigue of work. One is a culinary trip conducted by the family of PT. Beton Elemenindo Putra. Saturday, April 14, 2012 we took a trip to Cirebon. Enthusiastic employees had gathered at 06.00 am and the trip began at 07.00 am.
After traveling for about 3 hours, we finally arrived in Cirebon. As usual, the weather that day was searingly hot. Our first choice for the treatment of fatigue after the trip is a taste of 'empal gentong' and 'empal asem' in Amarta restaurant.
After enjoying our first culinary, we went to the center of batik trusmi in Trusmi, about 10 minutes from Jalan Plered. We were treated to batik with various colors and patterns which are typical of Cirebon. In this place we have the opportunity to make batik assisted by local batik artisans. Some employees of PT. BePutra also tried to dye cloth using wax and canting.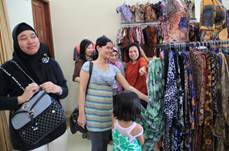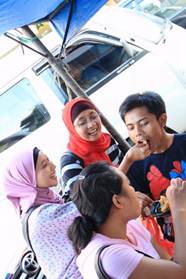 After batik shopping, we continued the trip to historic site, Hok Tek Ceng Sin Temple in Jamblang. Then, we went to the center of Cirebon snacks, Manisan Sinta near to Pasar Kanoman. Besides shopping for candied fruit and dried fish there, we also did not want to miss eating other Cirebon culinary which are tahu gejrot and fresh durian ice, while sitting on the edge of Pasar Kanoman.
In the afternoon we proceeded to Keraton Kasepuhan, the historical center of Sunan Gunung Jati. Inside the palace, there is a fairly complete museum which contains heirlooms, paintings, and a collection of the royal trains, Singa Barong. We also had the opportunity to wash our face in the SunanÔÇÖs well, one of the sacred wells that is within the palace area.
Tired of strolling around the town of Cirebon, seafood restaurant H. Moel located in Jalan Kalibaru Selatan became our closing culinary choice because we felt incomplete that if we did not eat seafood in this seafront city. Actually, after that, there was a surprise cuisine, nasi jamblang, which has been provided by the parents of one of our exemplary employees at his house. The atmosphere of exhaustion after walking around and the warmth of family were very pronounced. The employees hope this event can further strengthen their sense of brotherhood and solidarity as well as a new spirit for returning to work next week at our beloved company.