April 2012 | Basic Training Day Partner-Installer Bali
On April 2012, PT Beton Elemenindo Putra, the producer of b-panel® building system organized a basic level training event for its Partner-Installers in Bali. This event was supported by PT Dewata Solusi Bangunan (PT. Deesbe), the authorized agent of b-panel® for Bali province. The location was at PT Deesbe's office, in Jalan Dewi Sri 88, Legian, where a training ground had been prepared on the back yard of the premise. 12 participants, representing five building contracting companies, participated in this event. The main goal of this basic-level training is to introduce the installation method of b-panel®, starting from foundation beam preparation, panel installation, to the concrete application on partition walls.
The event started with each participant introducing themselves, continued with theoretical knowledge on panel installation in one of the room within PT Deesbe's office. The main instructor of this event was Handry Fabriansen, the project division head of b-panel®, assisted by Edwin from PT. Deesbe's project team. After detailed explanation of b-panel® installation techniques and Q&A, the participants were treated with a surprise guest speaker from Jakarta – Mr. Hadi Wijaya from PT Sinar Graha Paramita, one of the first and most successful Partner-Installer of b-panel®. Pak Hadi enthusiastically explained the opportunities and challenges, do's and dont's in establishing a construction service company based on b-panel®, all the way to having done tens of projects to date profitably in 3 different provinces using b-panel®.
For lunch, the participants walked to Hotel Spazio, situated a few buildings from PT Deesbe. After that, the activities moved to the back yard of PT. Deesbe, where the participants learned hands-on on how to install the panels. With the assistance of PT Deesbe's project staffs, the participants attempted to install the panels on foundation beams that have been prepared beforehand, and how to secure them properly. Using a small concrete spraying machine – Turbosol Avant -, the participants also learned on how to apply concrete on b-panel®. At this stage, the installation speed and efficiency of b-panel® system became obvious compared to conventional methods.
The participants were expected to increase their ability to install b-panel® at the basic level (i.e., non-structural/partition application) and to steadily improve their ability to soon able to install b-panel® in structural applications, such as load-bearing wall and floor/roof decks. Structural application is actually one of b-panel® 's main strength, where a very high structural efficiency not possible in conventional methods can be achieved.
Training levels – Partner-Installer b-panel®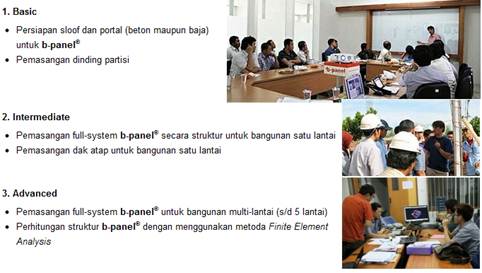 Bali is a very strategic market for b-panel®, where people have already gained deep appreciation and understanding about energy conservation and environmental protection, sufficiently high income level, as well as Bali being an earthquake-prone area. This makes b-panel® a credible, superior alternative to other construction methods in Bali.