On Saturday, July 9, 2011 PT. Beton Elemenindo Putra employee went for a company-paid recreation trip to Ciwalini hot spring, one of tourism area in Ciwidey, West Java. About 30 participants followed these activities by motorcycles. They depart early morning from factory, travel for about 35 km, with route : Batujajar – Selacau – Cipatik – Soreang – Ciwidey and  arrive in Ciwalini ??hot springs at 10.00 WIB.

Participants are ready to leave the tea plantations shortly
Ciwalini region is very popular hot springs area of  Mt. Patuha. One of the places is Ciwalini Swimming Pool. It is located at an altitude of 2400 m. This recreation area offers cool air surrounding and a beautiful – exotic scenery.
The tea garden surrounding Ciwalini makes this area as a natural complete recreation place in South Bandung. Black tea is exclusively produced in this region, which is managed by PT Perkebunan Nusantara VIII. Walini black tea has a distinctive aroma and flavor as well as a good quality tea.
Patuha Tea
Plantation
,
Ciwidey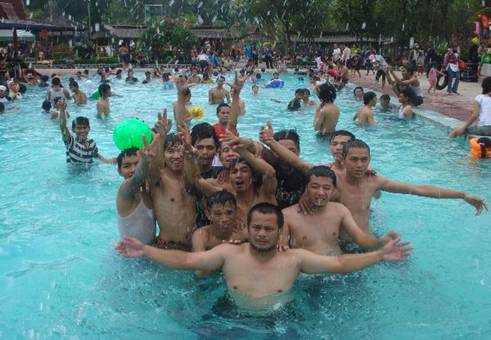 Hot Springs Swimming pool, Ciwalini

Lunch at  RM. Sindang Ponyo – Ciwidey
Before returning to Bandung, the participants took a break and had lunch together at RM. Sindang Ponyo,  a Sundanese Restaurant in Ciwidey.
All participants were very enthusiastic and happy with the touring, and really hope this kind of activities can be repeated every year.