May 2010 | b-panel Support Launch Event Batununggal Estate Green Line Homes

Launch Event Batununggal Estate Green Line Homes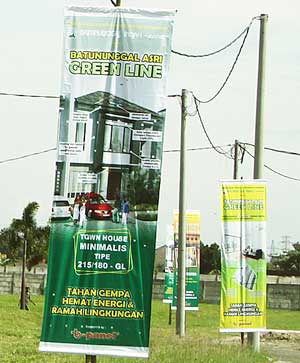 b-panel®
Home is the biggest investment and most long-term individual or a family will grow. Is a desire of each prospective home buyers that the house would be purchased is the most perfect, or at least many advantages that can he bought. There are so many criteria for a dream house. The house must be a strategic location, close to the means of quality. Design houses should not outdated, without too rests with what style was "a trend" at this time only. Environmental dream house should be safe from crime, without the impression of a house enclosed by high walls and barbed wire like a prison.
Now this consumer real estate Indonesia, increasingly also realize the importance of the benefits of a building design for earthquake resistance, and also for saving energy daily operations of shelters. Most of us already know that most parts of Indonesia, and the chance for these areas are densely populated, such as Java, Bali and Sumatra, are vulnerable to severe earthquake. And after the big quake recently in West Java and West Sumatra / Padang takes no small amount of casualties and material losses are great, ideal occupancy requirements must also include earthquake-resistant homes. With its feel-added global warming (global warming) and the higher cost of electricity, the more importance was that since the function of a house originally designed to conserve energy, particularly electrical energy required for air conditioning or A / C. Terms of the last dream house, which must be environmentally friendly housing, both in energy usage as well as the workmanship and choice of material, also be thinking of real estate consumers in Indonesia, particularly forward-thinking and high level of concern.
Fortunately, with the innovation of PT. Beton Elemenindo Putra, a subsidiary of PT. Beton Elemenindo Perkasa, one of the largest manufacturers of precast concrete and credible in Indonesia (also known as "PT. BEP"), namely b-panel®, conditions ideal home earthquake resistant, energy efficient and environmentally friendly will be met with optimal. b-panel® that has been selected by PT. Batununggal Estate, the largest real estate developers in the city of Bandung, to become one of the key building materials of their latest product, namely "Green Line Batununggal Estate Homes" are designed on an ongoing basis (holistic) in order to withstand earthquakes, protect the environment and save energy optimally. On May 15, 2010, Batununggal Indah Estate is supported by a team of b-panel® held a launching Batununggal Greenline Beautiful Homes in their cluster locations Batununggal Asri.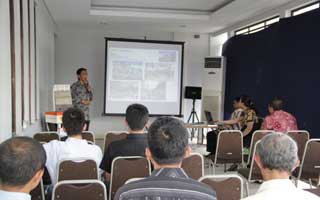 Additional features home eco-green Green Line include CFL bulbs (compact fluorescent light) at all points of light, photocell for automatic operation of exterior lights at dusk times, free materials such as tree felling lightweight steel roof truss and aluminum frame, and the Most importantly, the entire exterior and interior walls of buildings made of b-panel®. In addition to functioning as an excellent thermal insulation, a layer of polystyrene on the b-panel®wall also works for sound insulation, so the noise level of each room occupancy can be maintained, both from a voice from another room (eg the sound of children playing) and the sound that comes from outside the dwelling and neighbors, and peace / privacy shelter became more assured. With the construction of this b-panel® (the entire 2nd floor is a purely residential structures b-panel®, single-storey structure is a combination of reinforced concrete and b-panel®), the level of earthquake resistance to be very good because of the robustness of the structure combined with a structural weight reduction significant. Excellence earthquake reinforced EPS panel systems such as b-panel® has been recognized by experts in international earthquake, and PT. Beton Elemenindo Putra also have done various tests to prove the earthquake resistance b-panel® system, including full-scale seismic testing at PUSLITBANGKIM Cileunyi in front of dozens of earthquake experts and business partners b-panel® last February.
In the event launching the Green Line Batununggal Asri homes in this cluster, the developer Batununggal Belle invited a number of potential buyers and also some real estate agents from the area of Bandung. In this event, attendees listened to presentations about the features and benefits of the Green Line Homes, and after the luncheon event, they are welcome to visit the Green Line Homes project site, to view live demonstrations b-panel® mounting system on some housing units being built.
Batununggal Indah Estate launches Green Line is the occupancy type in the cluster they called Batununggal Asri, an exclusive cluster with 36 units of residential, integrated 24-hour security and swimming pool and gym facilities specific cluster hosts. Houses type 215 Green Line is marketed at a price slightly higher than the regular type, but with the advantages of the Green Line Homes, a premium price is still making the Green Line Homes as an attractive investment opportunity because of the potential sale price (resale value), which also will be higher. Even more important, for the residents of the house, residential Green Line will be the beginning of living comfortably with air conditioning energy cost savings for many years and became a refuge in times of large earthquakes.
For more information on the Green Line Batununggal Estate Beautiful Homes, please visit the www.batununggalindah.com.
Source: b-panel® Marketing Team
Reference Article: Newspaper "Tribun Jabar" 17 Mei 2010: "The Launch of Earthquake resistant housing" [