May 2010 | b-panel at Bali Building Technology 2010 Exhibition | Sanur, April 28 – May 3 2010
Bali is an area that is perfect for the b-panel┬«material and building system, due to stringent environmental community awareness and energy saving, and also because the island of Bali is in the zone of high seismic potential. Therefore, PT. Beton Elemenindo Putra participated in the Exhibition building materials tech "Bali Building Technology 2010″ held on 28 April to 3 May 2010, at Convention Hall Hotel Sanur Paradise.
In the exhibition, b-panel┬«'s marketing and technical staffs introduces the benefits and advantages of b-panel┬« to visitors which visit b-panel┬«stand. The visitors whose visit b-panel┬«stand, the total number in the hundreds during the exhibition, most of whom are the perpetrators of construction in this island – architects, planners, contractors, and developers. Not a few of the visitors are foreigners / foreign national who is domiciled in Bali. For most of them, technology and the benefits of b-panel┬« is already familiar, since the origin of b-panel┬« technology from Europe, there have been several decades was known in his native place.
On the 4th day of the exhibition, which is dated May 1, 2010, b-panel®team make a presentation introducing the b-panel®products to the visitors of the exhibition in the Legian conference room. In the same event, not a few questions that asked visitors about b-panel®, due to a combination of enthusiastic visitors will be earthquake-resistant building materials, energy efficient, and environmentally friendly, with the fact that these b-panel® is a new building system technology , very different both from the visual and the installation procedure, compared convensional ways, such as brick construction.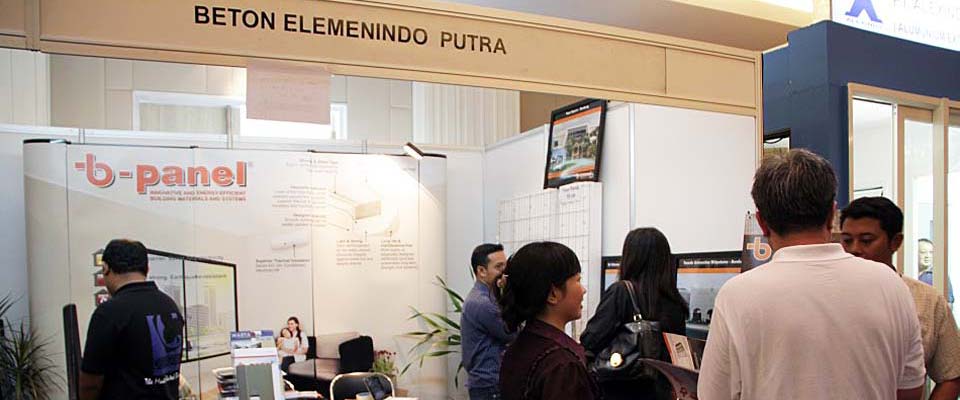 PT. Beton Elemenindo Putra's hope that being a participant of Bali Building Technology exhibition are more socialized b-panel® systems and building materials on Bali, and continued momentum of the successful projects that have been and are being treated with b-panel® in Bali, for example Vi Ai Pi Club Legian, Santika Hotel kuta, and Dipan Villa Petitenget.
Source: b-panel® Marketing Team